Trip duration: 2 days | Approx cost: £150 inc flights, car hire and accommodation | When: March
Doinit factor: A chance to explore some great Hungarian abandoned places!
The world is full of well-known and amazing buildings which attract hordes of visitors, but, for a small community, it's the decaying, abandoned, and unknown which lure their fascination; This is the world of 'urbex', or urban exploration. It's a world that I, along with Dan and Macca will be delving back into over a weekend in Hungary.
We flew into Budapest the night before, picked up a hire car, found our Air BnB and still manged to get a couple of pints in one of the city's famous ruin bars, a fitting venue for a couple of urbex enthusiasts.
THE UN-OFFICIAL RULES OF URBEX!
Never explore alone
Don't break anything, even to enter
Don't take (steal) anything from these sites
Don't share the exact locations (you'll note this article doesn't share exact locations)
Don't run
Our first day of our urbex weekender starts with a 90-minute drive, heading south-west from Budapest. We've planned to visit four sites today, keeping in mind we might not be able to access all of these. But they are all relatively close to one another so it's easy to move on quickly should we need to abandon are efforts on an occasion.
Built in the 1960's the small town of Szentkirályszabadja was originally home to approximately 2,000 soviet soldiers from the 13th Poltava Guards Rifle Division, and their families. After the fall of the USSR the town became home to Hungary's 87th Bakony War Helicopter Regiment until 2004 when it was eventually abandoned. To maintain self-sufficiency the town had all the commodities you'd expect; restaurants, a cinema, schools and nurseries. But now these buildings lay in ruin; Overgrown with vegetation it's pretty difficult to tell which building was what.
A dusty road leads us into this ghost town. There are a number of high-rise accommodation blocks of classic soviet design, now nothing more than shells.  It's eerily quiet with only the sound of our footsteps walking over broken glass as it's only us in town.  We've spent a couple of hours getting lost in history and it's only when our stomachs growl we realise it's coming up to lunch!
After a quick lunch of Goulash and pancakes at a roadside snack shack we head to the village of Hajmáskér our second stop of the day. Driving along the main road, in the distance we see a formidable grey tower with terracotta tiles; this is part of the Hajmáskéri tüzérlaktanya (artillery barracks), our destination.
Built between 1901 and 1910 this was one of the largest military installations within the Austro-Hungarian empire. In 1944 German troops took control of the barracks during the occupation, but soon after it was occupied by the soviet army. It was during the Soviet era the destruction of the barracks began, finally being left abandoned in 1990.
We park in front of the main entrance to the building, it has some weathered signs discouraging entry but any fence barriers have been pulled apart a long time ago, so entry is easy. The main tower is even more daunting close up and once inside the sense of scale of this places continues to impress. I can't help but admire the architecture as I wander through the empty corridors and rooms, under the watchful eye of the iconic tower which oversees the entire complex.
As late afternoon sets in we continue to the nearby Inotai Erőmű hűtőtornyai power station. Built in the 1950's the power station supplied Hungary with power for 50 years before being decommissioned in 2001. Since then it's been crumbling but also used as a film set, most notably in Bladerunner 2049. Once parked we subtly walk past the security hut to scope out the perimeter but it's not long before we're startled by a speeding BMW which perhaps coincidently makes a screeching U-turn just in front of us. The occupants inside look like security and they look hard as nails. So we carry on walking and soon see a police car chasing another vehicle before the same BMW races past. It appears that something is going on, perhaps they're looking for fellow urbexers, and that's enough of a bad omen to turn us away.
Not wanting to end the day on a downer we've decided on one last stop on the way back to Budapest. Approximately 25 minute later we're staring at the beautifully elegant, yet decaying Kégl Palace. Built in a neo-renaissance style between 1876 and 1878 it overlooks a vast grassy plain. From a distance this building doesn't look in too bad a condition, partly due to the reconstructed roof. But as we make our approach it becomes clear the palace has long been abandoned. While most of the doors and windows are boarded up we find an opening where we can slither down to the cellar.
Once inside we make our way from the cellars to the ground floor foyer and then upstairs to a dance hall, billiard room and the "gentleman's room".  Finally, we reach a balcony just in time for a break in the clouds; so we've a little time to soak-up a few sun rays and warm up before we head back down again to leave before the sun sets.
Day two doesn't start to plan. Our car has been clamped; it seems we've parked somewhere we've not meant to have. This means we're going to be running late and we worry we may not get to visit all our planned sights. It's an hour before we're on the move, once again heading out of Budapest, this time North.
We arrive at the massive Buda Hilton Hotel. But this is unlike any other Hilton Hotel one may encounter. Set back in an old stone quarry, surrounded by lush green forests this was meant to be a luxury spa resort with up to 210 rooms; But this huge concreate project was never completed and now stands abandoned (from the early 2000's). It is a little surprising no one has picked it up and caried with the construction.
There's a hole in the wire fence at the side of the site where we crawl through and continue to the main front facing side of the complex where by chance we find a window that permits us entry. It's very quiet, like the other sites, however, I note unlike most of the other sites we've visited there's no broken glass; all the glass windows are still intact. After exploring the main ground floor reception area and pool, which is a pretty impressive space, we make are way up the stairwell, exploring the unfinished guest rooms before making our way to the top floor where we're greeted with a fantastic view of the meandering Danube.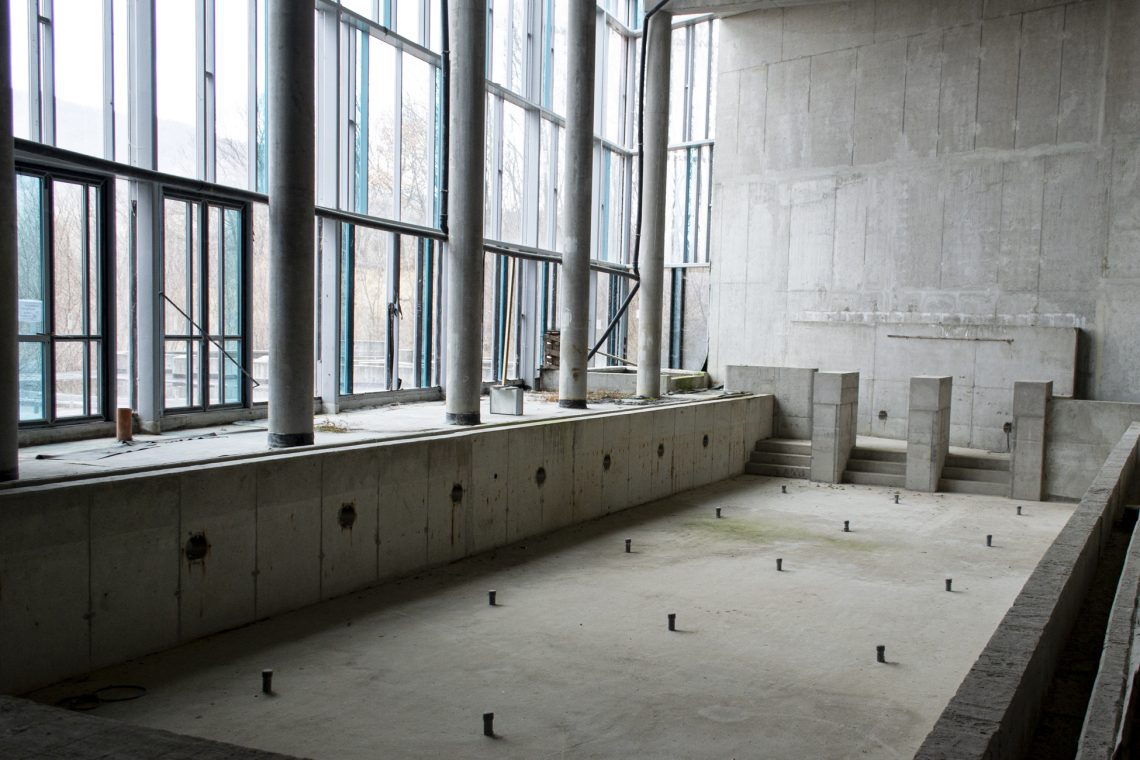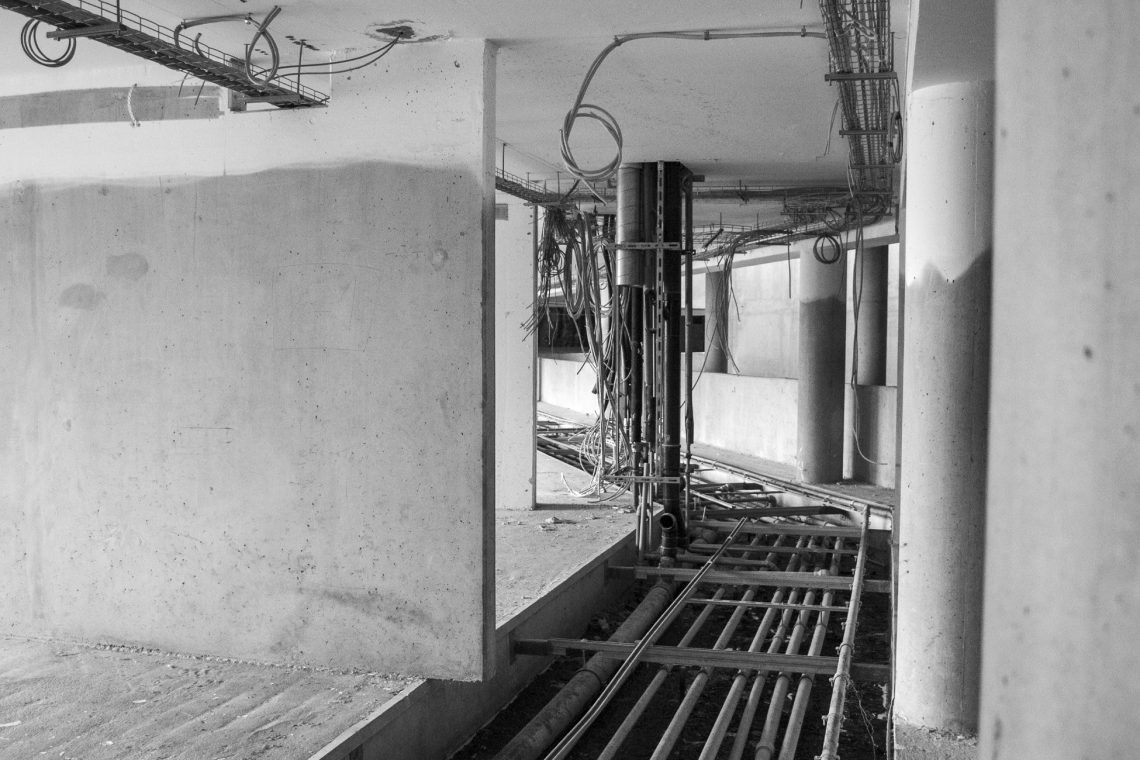 It's late afternoon and we're back in Budapest with the hopes of visiting the Kelenföld Power Station. Built in 1914 it was one of the most advanced power centres in all of Europe. It was in 2007 when it finally stopped providing power to the city. Now, Hungarian law protects the historic parts of the site and prevents it from being torn down. It's in these parts where we hope to see some of the old machinery, hundred-year-old turbines, and retro-styled control room with its dials, gauges, and buttons. The centrepiece of the plant however is supposably the large Art Deco glass ceiling in the control room.
As we approach the would-be entry point, a low fence, easily scalable – security appear. They don't confront us directly but instead stroll around the area. Clearly, we've been spotted and clearly, they're used to unwanted visitors. It has become clear that we won't be going any further and decide it's best to leave and grab some late lunch.
Our final stop for the day is the Istvantelek Train Yard which occupies a vast area of land and is the final rusting place for precious but deteriorating locomotive artifacts. Also known as the Red Star Train Graveyard inside are carriages from the Nazi and Soviet occupation. After suspiciously lingering outside the permitter walls, trying to work out how to gain entry I try a mag-lock door and to my surprise it's ever so slightly ajar; it would seem security may have not locked up properly (yay!)
Once inside the depot we are immersed in train history. The wagons and carriages are lined up against one another, and there's obvious damage from fire which ripped through the depot years earlier. The glass roof panels are largely blown and the whole roof looks like it's defying gravity, so I can't help think I should be wearing a hard hat, just in case, but those thoughts subside as we come across the site's crown jewel. The legendary Red Star Train (classified as MÁV-424) which gives this place it's unofficial name. This is a humongous beast of a machine and pictures we've seen of it do not do it justice. It's fine timing, as we've just enough time for some photos before day light begins to dwindle and we think it a wise decision to make our exit.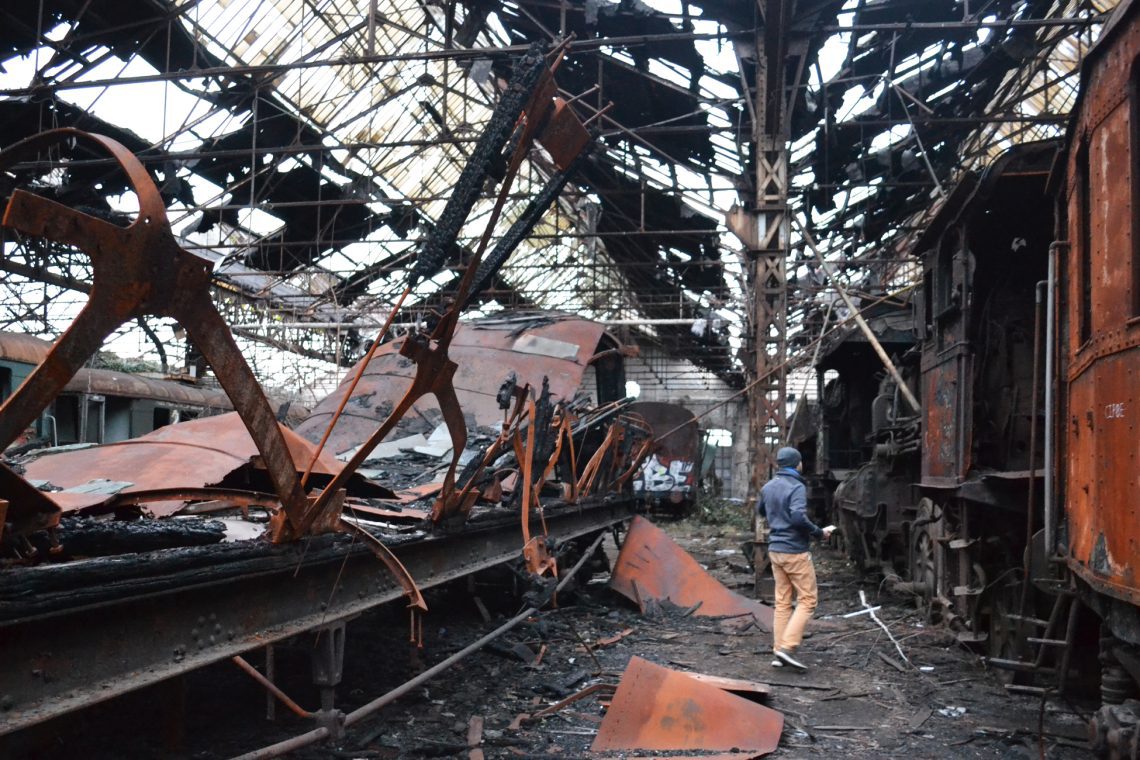 This marks an end to our weekend exploring abandoned places in and around Budapest. It's been a fascinating couple of days. And even though we've not been able to visit some sites we leave Hungary up-beat; after all you need to limit your expectations when 'urbexing' as there is always a good chance you won't be able to access a site. But for me the Train Yard really makes up for any disappointment; I like trains.
WHERE TO STAY
A simple internet search will relieve ample options for accommodation. Like all cities you can find luxury as well as more modest accommodation.
USEFUL LINKS
If you want to learn more a out urbex there's a number of cool websites out there, check out these: